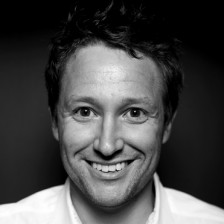 I am President of MullenLowe Group Japan, one of the fastest growing full service agencies in Tokyo, working with a variety of international brands, large and small. The MullenLowe Group is one of the world's biggest and most respected agency networks with a lineage that goes back to 1899. In addition to the management role I lead strategy on projects for international brands both in Japan, and taking Japanese brands out of Japan.
Previously I co-founded Alien-Eye, Inc, an independent digital agency and ran it as CEO from 2004~2013 before it was acquired by Profero. I am also a 500 Startups mentor, supporting tech entrepreneurs growth strategies in Japan.
I have a strong scientific and analytical background, with a Masters Degree in Physics from Oxford University, and 3 years of training the WPP Marketing Fellowship – a program to develop media neutral brand and marketing strategists, but combine this with a dedication to creative thinking and inventiveness, and love working in diverse and creative teams.
Day to day I work principally as a brand and communications strategist, directing a multi-faceted team to solve complex challenges, focused mainly but not exclusively on growing international brands in Japan.
Leading a team that combines expertise in media, technology and creative, I bring to bear my own restless curiosity for Japanese culture, technology and the evolution of the web, as well a sense for products and services and how people engage with them.
The child of two passionate teachers, I have a strong sense for the importance of education and have served on the Board of Trustees of the British School in Tokyo since 2011, becoming Chair of Board in 2017. Previously I have been an advisor for several learning and language technology companies, and have taught courses for and mentored young entrepreneurs and brand strategists in Japanese.
Academically I have a deep-seated preoccupation with the co-evolution of technology, mankind and nature, an area I explore in numerous ways, from reading widely around these fields, indulging in innovative and/or elegant new technologies, as well as through hobbies such as gardening, experimenting with urban-greening and recycling techniques, and trying to keep to a sustainable urban lifestyle in general.
With a background in the physical sciences, and now a communications professional, I follow climate change and its relationship to technology, social justice and finance with "keen" interest, and try to do what I can to move things forward in what I believe is a sustainable direction.
At home I dedicate myself to cooking delicious food (including British!) for my wife and two sons, camping and hiking in Japan's mountains, and nurturing a love for cricket in anyone who shows an interest!